How to find the best carpet to meet your needs
The selection of carpets we offer here at Giles comes wide and varied, with something to meet every kind of residential or business requirement. Working out what carpet will be best for you can be daunting when considering all the different types and styles of carpet available. Common considerations begin with what sort of space you are going to carpet and what sort of foot-traffic the area would expect, so we can ascertain what will suit your space best.
Next to consider is colour choice, keeping in mind the size of the area to be carpeted and the effects colour will have on the space, for example, dark colours may make a small room look smaller.
Finally, one must consider your budget and pricing options. The Giles team can assist you here when making the right choice for you and your budget and can often times provide you with an estimated price on the spot (we can come to you for a free measure and fixed price quote).
These are the most common carpet-types available to choose from: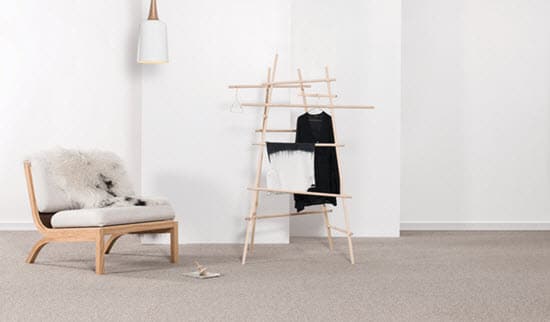 Wool carpet has great features including good wear resistance and has natural fire-retardant properties. Warm in winter and cool in summer, our selection comes in a variety of weights and densities. Wool is luxuriously long-lasting and has a great reputation for durability.
Wool carpet is your ultimate long-term carpeting solution that is sustainable, biodegradable, and even hypoallergenic - perfect for environmentally friendly households.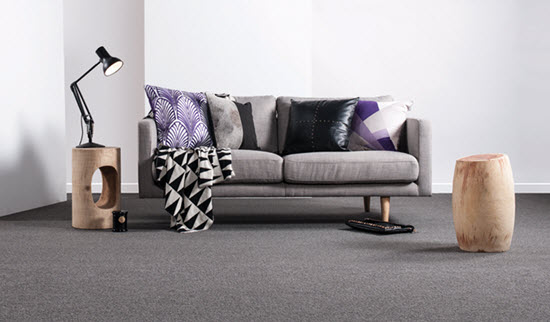 Wool blends offer better wear and clean-ability and allow the buyer to have a quality, warm flooring that is more durable and easier to clean than pure wool. Blends usually sit around the 80% wool - 20% nylon ratio and more moderns variations that include bamboo or polypropylene.
Blend carpets are great for heavy foot-traffic areas such as entry-ways and hallways as they are easier to clean compared to Pure Wool options.
By far our most popular choice, Solution Dyed Nylon offers superior colourfastness and excellent colour retention. Available in a variety of weights and shades to suit most purposes from high-density foot traffic areas to quiet residential spaces. It's also fade resistant, stain resistant and most Solution Dyed Nylon carpets have Extra Heavy Duty or Medium Duty Commercial ratings.
Many commercial builds nowadays go for Solution Dyed Nylon carpets for their super-hard wearing tolerance and their fade and stain resistance.
It's also perfect for busy homes and families and both investment or rental properties.
Triexta is a relatively environmentally friendly flooring made partially from corn-sugars rather than petroleum by-products.
Triexta is generally very soft to touch, and comes in a vast range of colours and patterns.
At Giles Carpets, we generally recommend using Wool Blends or Solution Dyed Nylon rather than using Triexta, due to the superior durability of these other carpets.
Carpet Tiles can transform any dull, neglected or disused areas into a vibrant, modern usable space.
Carpet Tiles are the ultimate in commercial flooring, they not only transform spaces with unique design flexibility and pops of colour but also if damaged, replacing the damaged tile is simple and cost effective - simply lift up the damaged Carpet Tile and replace with a new one.
This type of carpeting is a cheap and easy option for re-flooring spaces on a budget. Suitable for low to medium foot-traffic spaces, it's relatively stain resistant and is bleach-resistant.
Like solution-dyed nylon carpet, it offers superior stain resistance as it's colour is added to the initial liquid form before extrusion so colour can't be bleached out.
Polypropylene does have the tendency to 'crush' under furniture feet and doesn't recover quickly but with a good brush and regular vacuuming, it will stay looking new.
It's easy on the pocket and is the perfect choice of flooring for use in spaces that don't have heavy foot-traffic.
Talk to us about whether we think it will suit your home.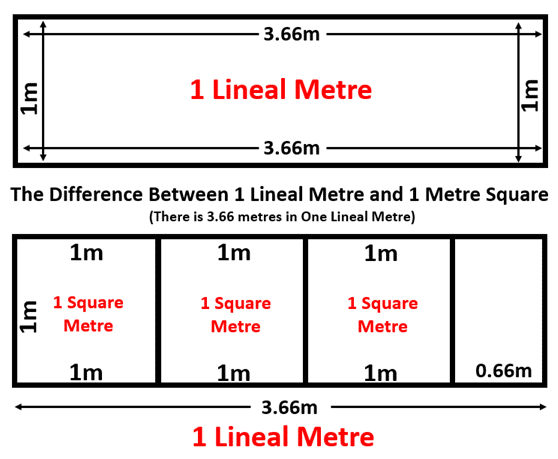 Carpet by the metre - an explanation
Carpet is sold by all our suppliers and by us in Lineal Metres (otherwise referred to as a Broadloom Metre or Carpet Metre).
Carpet will only be made in 3.66 metres wide, (12 foot) or in some instances, four metres wide.