Dunlop Flooring is proudly New Zealand owned and operated with our factory based in Avondale, Auckland.  We are focussed solely on the manufacture and supply of re-bond foam Carpet Cushion to the New Zealand market.  We also operate a warehouse in Wellington and Christchurch.
We employ a team of 40 well trained, experienced, and dedicated staff that are focused on delivering Advanced Underfoot Comfort to homes in New Zealand.  Our core products are marketed as being manufactured using our Maxbond™ Cushioning System.  We have developed this system ensuring the product we make is the best in its category.
Our carpet cushion is made in a way where we are happy to guarantee it for the life of the carpet but more importantly will give you many years of very comfortable flooring underfoot.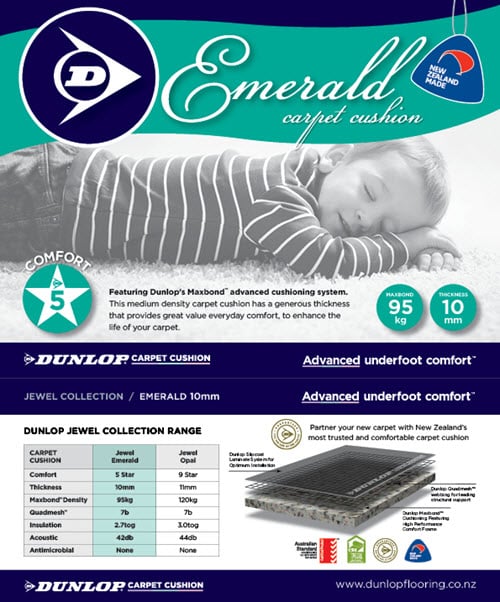 Dunlop - Jewel Emerald 10mm
Featuring Dunlop's MaxbondTM advanced cushioning system.  This medium density carpet cushion has a generous thickness that provides great value everyday comfort, to enhance the life of your carpet.
-10mm Foam underlay for advanced underfoot comfort
-95kg Density
Featuring advanced, proven technology certified for peace of mind, Dunlop Underlay is simply the best choice for your carpet's comfort, performance, and durability.
Innovative Maxbond™ Cushioning System
Dunlop Carpet Cushion is made using our Maxbond™ process, a world-leading manufacturing system, which maximises the comfort and performance of your carpet. Because the Maxbond™ process only uses high quality New Zealand and European materials, Dunlop's Carpet Cushion delivers the best long-lasting comfort.
Many people have been left disappointed because they were sold an inferior, cheaply made carpet underlay, possibly as part of a "deal", even though it was supposed to be the best product available. Make sure you don't make the same mistake.
When choosing your underlay, sure the density and thickness of the underlay are important factors, but even more important is the feel of the product, which is the result of the quality of the materials used and how it is made. Underlays are often left under a carpet for 20 years and poorer ones will gradually break down. Look for underlays with long-term proven performance and a good reputation in the market.
Dunlop Carpet Cushion is made right here in New Zealand for New Zealanders using Dunlop Flooring's world-leading MaxbondTM Cushioning System. Using only the best raw materials and processes means our underlay keeps performing for the life of your new carpet.
Choosing your underlay is as important as choosing your carpet, so come on in and speak to one of us about your options today.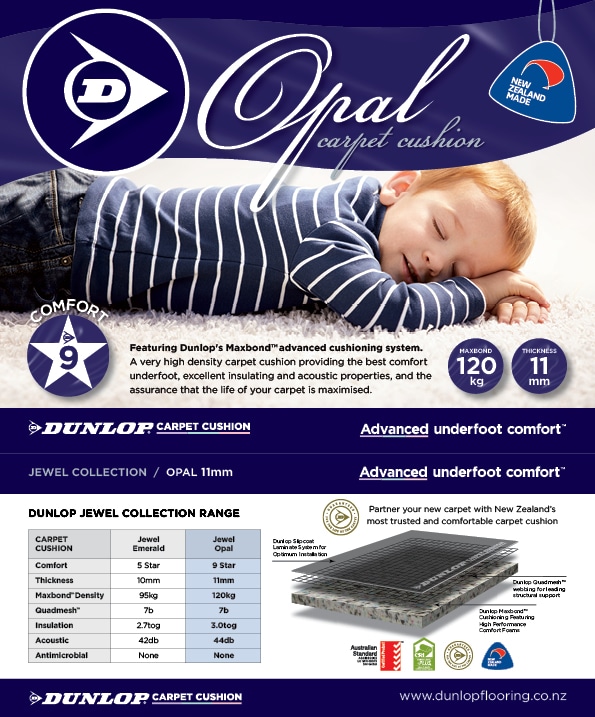 Featuring Dunlop's MaxbondTM advanced cushioning system.  A very high density carpet cushion providing the best comfort underfoot, excellent insulating and acoustic properties, and the assurance that the life of your carpet is maximised.
-11mm Foam underlay for advanced underfoot comfort
-120kg Density
Dunlop Carpet Cushion is made in New Zealand using their world-leading Maxbond™ cushioning system. Dunlop only use high quality materials and processes that guarantee the best comfort per kilo of foam is delivered to ensure long lasting comfort.
High Quality Materials & Processes
The foam off-cuts used in the Dunlop products are sourced from carefully selected furniture and bedding factories in New Zealand and Europe. As well as being top quality, these comfort foams are also clean and previously unused. Dunlop does not use foams from outside the comfort industry such as filter, packing, or automotive foams which have very poor comfort properties, nor do they use previously used foams such as from old mattresses, which contain dirty and old foams that can't be properly cleaned.
Quality Guaranteed
Featuring Maxbond™ advanced technology and certified for peace of mind, Dunlop Carpet Cushion is simply the best choice to maximise your carpet's comfort, performance, and life.
Remember, not all underlays are created equal. No manufacturer takes their product design as seriously as Dunlop Flooring, and Dunlop Flooring is the ONLY manufacturer and supplier of underlay in New Zealand that has its product independently tested and certified to both the 5 Tick StandardsMark™ and the Carpet & Rug Institute's Green Label Plus programme.
New Zealand's only 5 Tick Certified Underlay
Dunlop Carpet Cushion is certified to exceed the Australian Standard AS4288:2003 for soft underlays. This is New Zealand's recognised standard, as required by the joint Australian and New Zealand flooring installation standard AS/NZS2455.1.2007.
This confirms they have demonstrated to SAI Global that they have effective systems in place to ensure processes, product quality, and materials sourcing are at the consistently high levels required to achieve compliance with this standard.
Dunlop Guarantee
Dunlop Flooring's carpet underlay will perform for the life of your new carpet, and we back that up with our Dunlop Flooring Life of Carpet Guarantee.
Proudly New Zealand Made

Dunlop Flooring is New Zealand owned and operated and our underlay is made right here. So, when you purchase Dunlop Flooring's Carpet Cushion you can have absolute confidence that it meets the high expectations and standards you deserve.
Frequently Asked Questions:
Although often an afterthought, carpet cushion is a vital component when installing new carpet. Having the right underlay ensures you enjoy the full potential of your new carpet for its expected life and it means you'll also be enjoying the following great benefits:
Improved comfort:  Carpet cushion significantly increases the level of comfort underfoot regardless of the quality and thickness of the carpet. Make sure that your carpet cushion uses high quality foam which feels great underfoot and performs for the life of your carpet.
Improved appearance:  Carpet will appear richer and more luxurious with a good carpet cushion. Carpet cushion is designed to absorb impact and so is better for the long-term performance of your carpet.
Improved acoustic insulation: Installing carpet cushion not only reduces sound in the room itself but also reduces the transference of sound to rooms that may be below.
Improved thermal insulation:  Carpet cushion provides an additional layer of insulation which decreases heat loss through floorboards and also reduces the incidence of underfloor draughts. Not only does this create a warmer internal environment, but it also helps to reduce the cost of heating your home.